Cabell and Thomas prove a charismatic operatic duo at Grant Park
Sun Jul 26, 2009 at 8:42 pm
The pleasures were both expected and unexpected at the Grant Park Music Festival Saturday night.
As a prelude to the city's annual Venetian Night celebration downtown, the festival offered an evening of opera excerpts. Chicago's huge cadre of opera lovers always relish a night at the opera, whether indoors at the venerable Civic Opera House or under the open skies at the Pritzker Pavilion in Millennium Park, the music festival's home base.
Saturday's audience also was especially eager to hear one of the evening's two soloists, soprano Nicole Cabell. A Chicago favorite since her days in Lyric Opera's training program from 2002 to 2005, Cabell won the prestigious BCC Singer of the World Competition in Cardiff, Wales, in 2005 and her career has soared. Chicagoans caught their first glimpses of Cabell as a shrewdly wide-eyed Barbarina in Lyric's 2003 production of The Magic Flute and her comically commanding Rooster in Janacek's The Cunning Little Vixen' in 2004. More recently she has returned to Lyric in leading roles: Musetta in 2007, Leila in The Pearl Fishers in 2008 and, next season, Adina in The Elixir of Love.'
Opera in general and Cabell in particular were Saturday's expected pleasures. But the night also included the thrill of discovering a vibrant new talent, tenor Russell Thomas, a young man with a confident, stirring voice. Born in Miami and a graduate of the Metropolitan Opera's training program, his repertoire is wide-ranging, stretching from Mozart and Bellini roles to Mao-Tse Tung in John Adams' Nixon in China. Ardent without being flamboyant, he proved to be an ideal partner for the radiant Cabell in arias and duets from Gounod's Faust and Romeo et Juliette, Rossini's The Barber of Seville, Donizetti's The Elixir of Love, Puccini's La boheme and Verdi's La traviata. Juanjo Mena, a Spanish conductor making his Chicago debut, led the Grant Park Orchestra.
Cabell's lustrous soprano is strong and supple, with a hint of dark shadow in its depths. She is a sophisticated performer in the very best sense, finding just the right of balance of passion and impeccable phrasing. A tall, slim beauty with an expressive face, she was equally convincing as the wily Adina, headstrong Rosina, shy Mimi and teen-aged Juliette.
Her evening got off to a distracting start, when a brief, noisy rain shower descended during the Jewel Song from Gounod's Faust. She managed to keep her cool, however, swirling through Marguerite's delighted flights while the audience scrambled for umbrellas.
As the cool-headed Rosina, Cabell brought irresistible charm to Una voce poco fa from The Barber of Seville. Nonchalantly navigating Rossini's perilous climbs and precipitous drops, she was the very image of a self-possessed woman who knows exactly what she wants and is well on the way to getting it.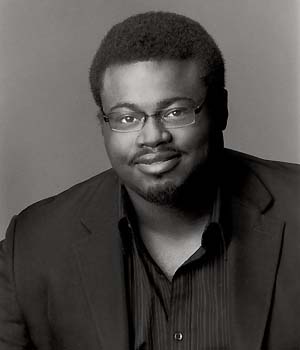 Thomas' impressive gifts were clear from the first notes of his opening aria, Ah! leve-toi, soleil! from Gounod's Romeo et Juliette. His second solo outing, Una furtiva lagrima from The Elixir of Love, sealed the deal. His tenor is flexible, with a pleasing, oaky texture. He has the kind of ringing, open-throated top notes that can send audiences swooning. But throughout the evening he offered more than technically dazzling operatic favorites. He was also emotionally involved in each character, expertly shaping his warm, colorful voice to create vivid portraits of young men in love.         
Fine as Cabell and Thomas were in their solo arias, their duets were even more engaging. Thomas is a large man, but he brought a touching youthfulness to his moments on stage with Cabell. Seeming to hang on her every word and gesture, he was intimately responsive, a young man longing to remain beside his beloved.
In the duet Va! Je t'ai pardonne from Romeo et Juliette, he was a Romeo to break the heart. At first rueful at the prospect of leaving Juliette, his mood shifted to almost-mad denial. Unfurling Gounod's lyrical melodies like a heroic banner, he seemed determined to hold back the dawn by sheer force of will. Cabell was equally fierce, her darkly creamy soprano soaring in ecstatic flights that also carried a tinge of terror at the thought of losing Romeo.
The romantic interplay was sweeter though no less intense in the arias and duet for Mimi and Rodolfo from Act I of La boheme. Cabell was a thoughtful Mimi. Her description of life as a young seamstress in a Parisian garret carried a sense of weight and wisdom. Thomas sent the audience into a frenzy with his ringing, open-throated top notes in Che gelida manina.
This was sumptuous singing, and Mena drew equally full-bodied playing from the Grant Park Orchestra. At times, however, he seemed to sacrifice vigor for expansive sweep.
Posted in Performances
---
Leave a Comment