Fiddlers three at Chicago Philharmonic opener
Mon Oct 19, 2009 at 12:55 pm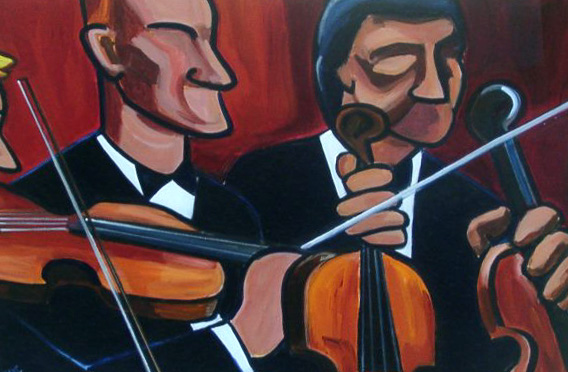 To survive twenty years in the non-profit world is no lean feat. The Chicago Philharmonic, a superb orchestra comprised mainly of Lyric Opera pit members, must be feeling particularly grateful for every single one of those music-making years after a financially rocky 2008 put their immediate future into question.
Celebrating this milestone after a resilient rebound over the summer, the orchestra opened its 20th season with a festive riff on the "Three Tenors" theme by spotlighting a trio of violinists instead. "Three Concertmasters" showcased the dazzle of the concerto but pared down to miniature form.
The gang involved was certainly impressive Sunday night at Pick-Staiger Hall in Evanston. Lyric Opera Orchestra concertmaster Robert Hanford, first violinist of the Chicago Philharmonic David Perry, and the long-time assistant concertmaster of the Chicago Symphony, David Taylor, all took center stage by themselves in works as short as three minutes long and no longer than ten.
As guest conductor Joel Smirnoff said in a pre-concert talk, the Philharmonic would be playing the virtual role of "backup band" while each of the soloists took their turn. But this fine-tuned ensemble seized the ears about as much as the fiddlers did. Smirnoff began the night with Beethoven's curtain raiser The Creatures of Prometheus Overture, which sounded resplendent and big-bodied even in Pick-Staiger's somewhat unspectacular acoustics.
And as Hanford took his turn in Ravel's Eastern-accented Tzigane, there were several moments where wondrously odd orchestral textures made you forget the solo writing, good as it was. Flouncing oboe lines, eccentric horn cries, and mesmerizing harp stylings were in very good hands as Smirnoff elicited abundant character from all over the stage.
If Hanford's opening act in the Ravel revealed a harder edged, almost scratchy tone, we instantly identified the sound signatures from the other two in theirs. Taylor drew a leaner voice in the Mozart Rondo in C, K. 373 while Perry's velvety and warmer approach dressed up Dvorak's gushy Romance in F Major, Op. 11. Then there was the Fritz Kreisler triptych, where each soloist performed crowd-seducing bon-bons from the Austrian violin idol. At this point in the concert it appeared that soaring and effusive lyricism would overshadow any displays of bow-busting virtuosity, but David Perry's furious rendition of Pablo de Sarasate's vibrant translation of hits from Bizet's Carmen got the crowd on its feet.
Each popular tune transmuted excitingly under Perry's bow, with the gypsy song Les tringles des sisteres tintaient the evening's garish apex. To round out the trio's take on French opera, Hanford meltingly vibrated his way through Massenet's gorgeous Meditation from Thais, and Taylor showed delicate high-wire range in Saint-Saens' Havanaise. If none of these low-key virtuosos provide extravagant stage presences, they make up for it with enviable techniques.
Smirnoff, the former first violinist of the esteemed Juilliard Quartet, had no problem swapping his baton for a violin as he hopped on board for Vivaldi's Concerto for 4 Violins, Op. 3, No. 10. This wall of sound was worthy of Phil Spector and it was a shame more Baroque music didn't make the program. Fittingly, a swashbuckling Paganini encore sent everyone home in high spirits.
That said, weird chunks of idle time between pieces hampered an otherwise smooth night. Instead of a fluid transition from one crowd-pleasing tune to the next, there were several unnecessary lulls and awkward waits while the next soloist would come back on stage. Eyes inevitably turned to conductor Smirnoff, who really could only twiddle his thumbs until the next violinist appeared.
There was, however, one bright spot when the Chicago Philharmonic wasn't performing: Four talented young members from one of Chicago's newest chamber ensembles, Anaphora, played cheerfully in the Pick-Staiger lobby beforehand and during intermission.
Posted in Performances
---
Leave a Comment