From first to last, Rozhdestvensky, CSO deliver memorable Shostakovich
Sun Feb 07, 2016 at 3:25 pm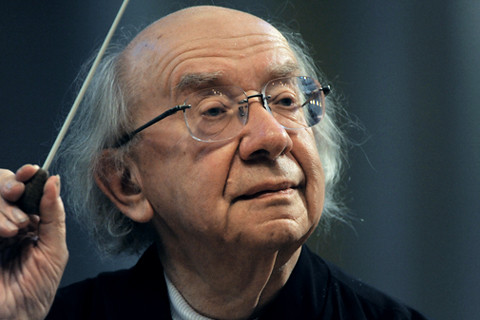 At his third curtain call after the rousing Chicago Symphony Orchestra performance of Dmitri Shostakovich's Symphony No. 15, the 84-year-old Gennady Rozhdestvensky took the score from the stand, thrust it toward the audience with a flourish and then walked slowly offstage holding the music next to his heart.
The music-making that preceded that touching gesture Saturday night was just as rich and eloquent in showing the close connection of the Russian conductor to music of his compatriot and colleague.
In his first concerts with the CSO in 17 years, Rozhdestvensky's program was a simple one–the first and final symphonies of Shostakovich, the alpha and omega of the composer regarded as one of the finest symphonists of the 20th century.
Longtime music director at the Bolshoi Theatre, Rozhdestvensky has held several high-level positions in Russia and Europe over his long career, with regular guest conducting of the world's leading orchestras and opera houses. As collectors know, his dizzying discography is just as prolific, including a complete set of Shostakovich symphonies.
Rozhdestvensky walked out slowly and stiffly Saturday night. Wielding a long baton, the conductor's podium style–or floor style since he eschewed a podium–is less demonstrative than in years past but showed a relaxed and innate authority in a world-beater performance of Shostakovich's Symphony No. 1.
What an astounding achievement this is for a 19 year old composer! Written as his graduation thesis, Shostakovich's First Symphony is remarkable not only for its audacious confidence and whipcrack orchestration but for how much of his mature style was fully formed while not yet out of his teens. As well as the youthful subversive quality, the First Symphony displays all the Shostakovich handprints: a relentless, frantic energy, sardonic scoring, sweet-sad waltzes and abrupt moments of darkness and tragedy.
Rozhdestvensky's lifetime with this music brought a reading of seamless facility and understated control, the conductor finding a depth and eloquence rarely plumbed in this early work.
One had the sense of no interpretive mediator at all and that one was hearing this music in all its brash energy and tragic moments emerge with no special pleading. Rozhdestvensky assayed the mercurial gear-shifts of the second movement deftly–though the crashing piano chords were distinctly underpowered–and cumulatively drew out the somber reflection of the Lento, from the plaintive oboe solo to its surging climax with brass and percussion lending asperity. Christopher Martin was at his finest in his hushed, atmospheric trumpet solo.
In fact, the First Symphony is almost a concerto for orchestra and under Rozhdestvensky, the CSO musicians were fully in synch with the anarchic spirit of this music, from John Bruce Yeh's loopy clarinet to John Sharp's searching cello solo in the finale. Following the brassy and exuberant final bars, the applause was long and enthusiastic.
Written 46 years later, Shostakovich's Symphony No. 15 has received a more mixed press over the years with its equivocal style and alternation of widely contrasted material seeming like less than the sum of its parts. Indeed, the high winds and percussion of the opening Allegretto lend a whimsical quality with repeated iterations of a fragment of Rossini's William Tell Overture, though the galumphing closing section is more sarcastic than affectionate.
With Shostakovich suffering from bouts of ill health during its composition, the feeling of last things is hard to avoid in his final symphony. That valedictory sense is especially manifest in the two Adagios with several quotations from his own works as well as Wagner's "fate" motif from the Ring and the dirge-like timpani beats of "Siegfried's Funeral Music."
Reconciling the child-like humor with the unremittingly dark moments is often elusive for conductors but Rozhdestvensky's patient objectivity made a strong case. Time and again he drew playing of striking transparency and responsiveness from the players, individually and collectively.
The many inspired solo highlights came from Sharp and Martin again, concertmaster Robert Chen and, especially, the somber gravitas of Jay Friedman's trombone. The percussion section performed with understated virtuosity and delicacy in the final bars with the long gradual fade at the coda feeling like Shostakovich closing the lid on his music box for the last time.
Posted in Performances
---
2 Responses to "From first to last, Rozhdestvensky, CSO deliver memorable Shostakovich"
Posted Feb 07, 2016 at 6:10 pm by Tod Verklärung

The Symphony #1 was a small miracle. The clarity, beauty of tone, and depth of feeling were a surprise in a piece better known for humor or driving intensity. Moreover, one had the sense of completeness at the close — as if one had just experienced a Shakespearean tragedy. This was one of the great concerts of recent years.

Posted Feb 09, 2016 at 9:57 am by Gerry Ahrens

We agree with Tod.
#1 was amazing, complete.
And then #15 was like something written for Rod Serling. Great night.

Was Rozhdestvensky's baton two feet long? I swear he whacked a Viola's stand twice.
Leave a Comment